M: Spook, Nickolas
22 // MALE // WIZARD
Boo!
personal information
-- FULL NAME: M. Nickolas Spook
-- NICKNAME:
** monster clause -- given by others for his unrelenting, ruthless spontane; leaving many others dazed and confused.
-- AGE: 22
-- RACE: Sinner (As part of the Sunlight species)
-- GENDER: Male
-- D.O.B.: 5th May

personology
-- GUILD: Light Bringers
-- SPECIES: Sunlight
-- PERKS: When in relative position to one another Nickolai is capable of seeing the light in them, not in the sense of using his eyes, but rather the warmth of ones another soul. This light depicts, sometimes, their personality-- and it can faint whether they are full of justice or of hatred. This has to require consent of the other person through OOC means but with one exception; if they're in five meter range of Nickolai and they do not consent it can be discussed with a moderator who will either approve or decline it.
-- UNIQUE CHARACTERISTICS: Several tattoos hidden by cloth.
-- GUILD TATTOO: Top of left hand, colored yellow
-- RANK: A
physique
-- HEIGHT: 6'4"
-- WEIGHT: 180lbs
-- HAIR: Blonde
-- EYE: Light blue
-- DESCRIPTION: Spook is mildly tanned, appearing more tanned in certain lights-- in daylight he appears as a normal Caucasian person would, with a white skin tone. Spook is a young man of above average height with medium long hair and light crimson eyes. His facial expressions have shown to be lacking, apart from his laughter- lines. Most of his teeth are sharp similar to the teeth wilder beasts, aside from their sharpness they are well aligned- and white. His smug smile is the smile he defaults to whenever he's happy. Spook has the aura of akin of cowboys who spent hours passing through the desert. This is caused by his strong, intimidating presence that he reflects. Which can be blamed on his strong body posture. His penis is ten inches long. His back is usually very right, and his shoulders broad and strong. Spook appears to be muscular, opponents will easily notice this by inspecting his strong physique which include muscular arms and shoulders. His casual gear when he goes out; 'hunting', are black hooded robes that do not constrict his movements. The robes are meant to protect his identity. They do make Spook seem conspicuous which is why he doesn't casually wear the robes mentioned above. Spooks firm glare, - which occurs occasionally- , does its job right. That job being that common folk feel shivers from his authoritarian stare.

Spook has a strong jawline and when describing his own appearance he usually calls himself normal, neutral and whatnot. His casual mage-y garb consists of everything you can imagine a wizard wearing, - for example Gandalf from the Harry Potter. Use your imagination. Nickolas appears to be a bit wealthy, his necklaces and other jewelry are from treasures he obtained through adventures.

psyche
--ALLIGMENT: Chaotic Neutral
-- LIKE(S):
** boobs: The natural instinct for nearly every animal species; which include the human species; is to latch their lips against their mothers teets and suck for the precious mother milk. Something as safe and warm is a good reason to like tits.
** food: The second instinct for every other animal and a basic need is food; this can include hunting for food or having others bring you food.
** living: third but not least, the most important of them all is staying alive; this is the top priority that Nickolai has in mind-- which makes it hard for him to give away his life for a cause if it's needed
-- DISLIKE(S):
** not living: not being alive would entail not being able to breathe, and breathing is good- therefor not living is not good.
** dying: dying will end a story, perhaps it will end a story where it shouldn't have ended just yet. The thought of dying scares Spook slightly, thus will generally avoid taking pathways that can ensure his death.
** gambit: a popular move in chess is to sacrifice a pawn in order to obtain an advantage. This technique can be applied in real combat, and it saddens Nickolai to see someone sacrifice their 'pawn', in order to get an advantage.
-- MOTIVATION(S):
** to emit trust: Even though Nickolai isn't exactly the most trustworthy person, emitting trust could mean that his noobbait would become stronger and more intense-- allowing him to lure in more people with his charisma.
** children: Nickolai wants a baby as a result of one his wrongdoings with pure maidens-- one that could lead up to an arrest if you get what I'm saying.
** establishing a positive reputation: Among Fiore, it is important to know who to believe in the case of wrongdoings-- should Nickolai ever establish a healthy, good relationship with the people of Fiore it would mean that he is to be trusted and believed in case someone wants to do him bad.
-- FEAR(S):
** bear traps: they could trap him and hold him on one spot for a time- and more importantly, they are extremely painful
** dark: being lighting focused the dark makes Nickolas slightly afraid. It doesn't mean that he won't wander into darkness, it implies that he will try to avoid it if possible.
** evil: recognizing the evil within people it will make him falter depending on the darkness of their heart-- Nickolai faltering can either mean that he will fight or have a flight reaction, which causes him to be a bit more panicky.
-- PERSONALITY: Enter the anti hero. Spook is a fascinating character who resembles the personality of many who call themselves anti heroes. An antihero or antiheroine is a main character in a story who lack conventional heroic qualities, such as idealism, courage and morality. Most of which Spook lacks. He follows many of the antihero characteristics, one of which being his rebellious nature. Always wanting to stick it to the man, having issues with following rules or forms of authority aside from his own. His flaws don't lead him to his demise, they instead help him achieve something greater. Spook has a personality most can relate with. His emotions appeal to many because people usually can connect with the struggles he has gone through, and goes through. Supported by his angst and edgy-remarks he remains to be unliked by his 'peers', his peers being wizards. He seems to have taken a great appreciation in combat. It is where he shines, and his true talents come out to show. He has shown to have decent expertise at combat, which enables him to see muscle movements of his opponents instantly and make it easy to see their movements.
His primary weapon is pretty odd - because he usually picks something unconventional, because he enjoys using unconventional weapons to make most of his ability - thus picking what he has now is different. He has considered using folding chairs as a part of his arsenal, but has yet to do so - he has been seen using fridges before. He has a distaste towards humid areas. He enjoys the 'calm' that forests provide, and has shown hostile attitudes towards areas and atmospheres that lack this. His hostile attitude involves him lashing out quickly, his reaction time being refined usually supports the quick responding to foes. On the battlefield, it is rare that Spook has shown mercy to his foes. Unless special circumstance is given his foes are not spared. He believes in Napoleonic law disregarding the fact that he's rebellious. He is straight/ hetero and prays in the church of tits and ass. He sometimes is perceived as barbaric, ruthless-- he leads with an unstoppable pragmatism
past
-- PROLOGUE: Instead of a chronological history, I present you with a short-story - which happened in his past, or rather his history. I realize that nobody will ever read this, and it will merely be here so this is what I decided to do instead - it'll not only give a good insight about Nickolas' personality, but also one of his adventures.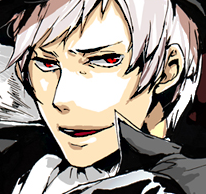 The sunlight species originate from one of the higher altitudes in Fiore. They were believes of the sun, they prayed to the sun and considered the sun as their god. They coveted the sunlight covenant and their members were known as holy warriors of the sun-- they harnessed the powers of the sun(light), and used their powers to fight for the 'good'.
On a Tuesday evening at 3PM young Spook was sitting on top of a tree bark. He slept good, which made him rejuvenated and ready to take on the day. The tree he was sat on was stable and well secured to the ground, it was one of many trees in the forest he was in. Or rather, on. He made sure that he left his home, (his boat) - well hydrated, one thing he knows about sleeping for long periods is that you get dehydrated. Which is why some people wake up while they're tired. You would think that one would wake up properly rejuvenated, but unfortunately this is not the case if you sleep over ten hours. That's why there's a term called over- sleeping. Waking up in a sleeping cycle is also something that can cause someones sleep not as rejuvenating as they wish it to be.  As Spook was standing on the tree – top, he had perfect overview over his boat. That's right, Spook lives in a boat.
-- CHPT.1: It was then when he knew, he fucked up. He saw three - looting - seeming figures try and board his boat by using a rowboat from the shore. Spook ran and ran and ran and ran and ran and ran and ran for a long period of time to get back to his boat - but he was too late, the looters already set off with his boat long before he reached the shore. Spook truely learned his lesson - what dumbfuck would be that far away from his boat in an unknown island? The boat that his father spent 50 years building got stolen and there was little that Spook could do about it.
-- CHPT.2: After a month on the island the young Nickolas had become slightly more progressively stupid over time - he had been scouting on an aboriginal tribe. After taking some desperate measures he kidnapped a tribe member. This was proven to be easy, thus he did this about twenty more times and traded them back one by one for ransom. Considering that these people were savages, and aboriginals they didn't have any usable currency. Thus Nickolas traded the tribe members for more materialistic things, such as food, pussy, and oddly enough office furniture. Nickolas made a raft using three office chairs, and found his way to his next island where his office chair-raft would sink. At this island, he was considering signing up and joining a guild, because the adventures that he had went through had resulted in him being homeless and poor.
-- FACECLAIM: Hetalia | Prussia
bearhunters
--RP SAMPLE: Let's begin.
On a Tuesday evening at 6PM Spook had been alone. On top of a Konha building, near the mountains to where the kage statues used to be, while having a great over watch over the area. This meant that he had excellent vision over his environment. It was a whole bunch of nothingness, well, on the exception of a ramp connecting the mountain to the ground at the bottom. The sun was shifting, it was morning. Spooks motives to remain in Konoha became cloudy. Over the last few days the man began to dislike the place he grew up in more and more. Combined with the fact that classical music had made him insane today would be the day that Spook would snap. It was today where he would hunt for nins and kill them, while after leaving the village for once and for good. Spook is a mercenary in mind, whose job it was to be an anti- hero. It meant being involved in combat, and fighting people. He realize that most wouldn't surrender, which meant that he were going to fight a lot. Spook is a very confident person. During his career he has had many successes, and as a matter of fact – he's currently on a spree. Which attributed to the factor of him being confident. These successes made him the way he is. Confident.
Spook has a past of fighting people. He's been a nin for the great part of his nineteen year old life. Spook had fought many opponents that had their own style of fighting, martial arts was a vast subject. But it's something that he perfected over his years of training- fighting, practicing. This meant that his footing has been perfected. In every possibly scenario Spook would put his footing in a perfect manner. He did this instinctively. By standing properly, Spook is able to get from zero to hundred percent speed in the fastest manner possible. This usually resulted in him being faster than people when it came down to acceleration speed. It also helped him in moving in a reactive manner, by properly moving the chances of being knocked down would be minimized. And as such, he would stand perfectly - such as he is doing now. Coming to this mountain, Spook was prepared – as always. Spook has his combat tools with him, as usual. He also – before leaving his home – remembered to properly hydrate himself before going even near the desert. This meant that he was in prime condition as soon as he entered, and would remain in prime condition for hours on end because he brought a few bottles of water with him. Spooks usual battle plan was somewhat complicated, it was to scout around the location. His methods of scouting included tracking – possibly tracing – and killing. It was summer, this meant that the summer would be high up in the air for a while. The reason why he carried out this exquisite plan at this time is that around this time, in the morning, it would be much cooler. Spook isn't one that certainly despises the heat, but if it is something preventable, then he'd go through the means to prevent heat from catching onto him. The sun being slowly coming from the horizon meant that the area would remain lit up, but things would start becoming hard to see after thirty meters. Specific details would be vague after twenty meters. This meant that footsteps were harder to track. Since Spook was a hunter, it meant that he had to stalk his prey. He was aware of his surroundings at all time, and would continuously look for footprints. He made sure not to leave any footprints or steps or whatever behind himself.
Spook is someone who cautiously kept a notice of his surroundings. He reached into his pocket, inside of his coat. He grabbed a scroll that was in the pocket and pulled it out. It was his will, should he die here, today. He studied it before rolling up this scroll and placing it back in his coat. He would be wanted death or alive after today. He made sure that it wouldn't be able to fall out of his pocket, leaving traces behind such as those would be the least thing he would want to do while hunting. Just as his ability to hide his footprints, he was very selective about what he would leave behind.
Of course, Spook was used to killing his targets. It was the easiest way to confirm whether or not his target is incapacitated. Spook was very well informed in ways to prepare before scouting, he was smart enough to make a plan up on the fly. He knew what he needed to do in order to set up a very good defense. Of course, this defense was meant to protect himself while simultaneously scouting. His scouting usually entailed he would use a plan to track, trace and kill. To Spooks left, there was the village gates. It was relatively close to mountains, bordering the forests outside of the gates. So far, Spook had yet to see anyone even near his vicinity. And this would remain for the rest of his preparations. He knew what he would need to do in order to properly set up a good defense while scouting – and while scouting possibly killing, had he found his target. He decided that it was a good idea to set up his defenses here. He had a good jutsu in mind that he could use to set up defense. It did mean that he spread tags around, and make sure they were very difficult to find. In total there were 5 tags, all made from chakra. He would spread these tags in secure locations.
Tag 1: The first tag that Spook would place was high up on a mountain, it took a fair bit time to reach here. It was placed under a rock, which he pushed to the side to quickly place the tag. In the area where he placed the tag there were countless others rocks that were around the same weight. One would need strength equivalent to Spooks to be able to push them all over and check if they had tags under them, were they able to sense the tag that is.
Tag 2: After descending from the mountain path Spook placed another tag, this would be the simplest tag he would place. Or rather, the easiest one to find- had someone started to search for them. He placed it behind a tree, in the shadow. The tag still was difficult to see, and find. He placed some inconspicuous leaves over the spot to camouflage it further. Around the tree which he placed his tag there were four other trees, in similar shape.
Tag 3: Tag three was placed in a labyrinth of caves. It was in the mountain that Spook was scouting above earlier. Finding the right entrance to this tag would be statistically impossible, unless his enemy had been trying to find the tag with scouting intent. He placed the tag on the ground and placed dirt over the tag, to camouflage the tag to fit in the environment without breaking the way the dirt looked. It looked natural, as if it was nature. Which was something he wanted. Finding this tag would be the most difficult – he thought.
Tag 4: The fourth tag he placed after exiting the labyrinth cave. He had to swim down a pond to place it under a waterfall about three hundred meters away from the other tags. And about six hundred meters away from the first tag that he placed in the mountains. This one was too, hard to find without scouting measures. Since Spook left no footsteps behind or made sure that nobody saw him while placing these tags made it hard to guess where they were.
Tag 5: The fifth tag he placed in his own home, behind his dressed, which was pushed against a wall. If someone were to search for his apartment, they'd have to be extremely careful because of booby traps. There was a bear trap in front of his door, which he of course avoided every day, but – if someone wanted to search through his apartment they'd see the bear trap and inventible feel paranoid for other booby traps and thus treat his apartment with care. It'd give him enough time to make his move.  
During his tag placing, Spook made sure not to be seen by anyone. And such had been the case, his stealthy antics made him able to move easily through the village while going by unnoticed. Almost every tag had been hidden in a way where it was extremely difficult to wildly stumble upon them. They'd have to need a valid reason to find it, and even if someone would find one – they'd have to find the four others that are hidden in just as perfect locations. There was not a single way for people to find them all in less than a day, they'd need the appropriate scouting tools and they'd have to know where to look. Spook wasn't quite done with setting up preparations just yet. As soon as he was ready from setting all his tags he quickly moved from his home, where he had set his last seal towards the mountain he was scouting earlier. There was nobody there, just like before. And nobody had seen him, just like before. After arriving at the mountains he entered a cave. The cave was very strong, it was impossible to collapse the cave unless the power of a nuke was dropped above it. There was no tactical position to enter the cave from, it had only one entrance. Which was the front of the cave, the cave entrance was quite small. It was big enough for one person to enter. The inside of the cave was quite small, it had room for 2 people to fight in a CQC style – which meant close quarter combat, with melee weapons. Spook knew what he had to do next.
He did one handseal, to make a clone. A shadow clone. Making this shadow clone would consume half of his chakra and have it put into the clone. He did this hand seal quickly, considering his decent hand seal speed. After his clone had been summoned there was one more clone summoned, from the clone. This meant that the two clones that were summoned shared half his chakra in total. This was chakra high enough to do two C ranked jutsus while still having some chakra left over, or a B ranked jutsu while having chakra left over as well. Spook made one more clone from himself, of course doing the seal as well properly just like before. This meant that there were 3 shadow clones ready. He handed one of the clones his fridge. The clones had the same speed and strength as Spook did, so carrying the fridge was not an issue. The clones all knew what Spooks strategy was. The shadow clones would one by one leave the cave that Spook was in. Spook sat down and used his chakra to perform the five-seal barrier. Doing the five seal barrier left Spook with near minimal chakra, but he would get out of focus. The clones were outside the cave at the time of the activation of the barrier. This meant that his clones could lurk easily while Spook stayed inside his safe barrier. The barrier covered the inside of the cave, meaning that nobody could come in, the ceiling, floor and the walls of the cave were covered by the orange colored barrier. The tags he had set earlier was meant for this barrier. The front entrance was shaded by a tree, therefor the orange barrier wouldn't be visible for others from far away, or even close really. You'd have to get really close to the cave to see it. The clones set out to cause as much chaos while remaining focused as they could, their primary focus was killing people. Since some nins had knew Spooks physical appearance they had no reason to jump at him and do something, rather, they would ignore him until he was done with his actions. He had this as his advantage – the element of surprise – he had three clones. One of which was lurking around the entrance of the barrier protected cave. Making sure to show hostile intent to any who dare to approach the location in its entirety.
The two remaining clones departed from the location of the cave, their objective was to scout and kill. One of the clones carried Spooks fridge – of course, in a very proper manner. Spooks fridge was special – it was a fridge stronk and big enough to kill a person with. Spook had a feeling that his fridge had abilities, but this feeling also told him that he needed to improve his fridge in urder to unlock those abilities. So – for time being – his fridge remained a normal, casual fridge. Being 200 pounds and having a handle made it easier for carry.
Spook has had experience with him doing missions that involved guarding the walls and gates of Konoha in his past. This meant that he had learned almost all of the guards' timings, when they took lunch breaks, when they weren't particularly paying attention. Most guards took their break at 10:15, while this happened it did mean that one guard remain on watch to make sure nothing happens during this time. Taking this into factor, he had learned that this guard didn't mind Spook being there – there had been no one taking this mission today, which left him the advantage of being alone with this guard, had his clone gone up to the walls. Which now became part of the plan, Spooks clone ascended from the ground and climbed up the walls in the usual fashion that guards did as well. The walls had a ladder attached to them. After getting on the wall, the shadow clone slightly waited for the guard to inevitably show his back to Spooks clone – which Spook clone took advantage of by getting close and instantaneously snapping his neck. The clones' strength was fully used to snap his neck, but he was still ready for any resistance. Which there didn't seem to be. Since this was the only guard on watch at the time covering the north portion of the wall, there would be nobody to notice Spooks actions. The kill was done with great stealth. As soon as Spook snapped the guards' neck he would carry on with the body of the guard, and put him in the guardhouse. There was nobody there, since it was still a break for the other guards. The clone that was at the wall had the fridge with him. He put it on the ground when snapping the guards neck, thus he went and retrieved it again. This clone had plenty of time to continue with his chaotic actions. Inconspicuously, he continued moving. This clone was about fifty meters away from the entrance of the village. Still going by unnoticed – it was then when the clone noticed a group of people starting to gather at the gates. Which motivated him to continue moving towards the gates on top of the walls.
While this was happening, Spooks other clone was at ground level. He held a coconut, which he had taken out of the fridge at an earlier time.  The coconut while it remained inside the fridge – which was way before – wouldn't have made any sound since Spook strapped items into the fridge tightly when he wanted to carry them around. This clone noticed the group of people gather at the gates simultaneously as his other clone that was on the top of the walls.
As these clones would remain hidden it was time to make a move – once again. He could use this coconut as a throwing weapon. With his strength and speed it could leave insane damage, disregarding enemies' defenses. The stealthy Spook clone, at the ground, ever so stealthily crept up on the bunch. The clone being ten meters away in a small time gap of about twenty seconds would have the coconut in his hand, ready. By the time that this clone did this the other clone that was on the walls had found his way to almost on top of the Konoha walls, most watchmen would watch around these parts for a short period of time so this clone had a small frame of  time to operate while remaining completely inconspicuous. The normal time for a watchmen to watch around the gates is a minute, he made sure to walk in the normal speed that guards usually do to have no reason to alarm anyone for any reason at all. .
The clone on the ground however, might become slightly suspicious had he gone closer than five meters within the small group that had gathered. But then again, there was constant streams of people walking in and out of Konoha, the gates were quite big so this wasn't an issue. In the morning it was primarily nin who went out to go do their mission, that would leave the village in order to do it. Therefor there was no reason to suspect Spooks clone. Spook was well trained in stealthy combat, he knew how to hide his intents very well. His first target was the male that stood tall. He had what seemed spiky black hair. Since Spooks clone came from an angle, it would be near impossible for the man to notice the clone. The clone could notice his edge from far away – hell, anyone could. While the man was in midspeak the clone at the ground that tightly held the coconut threw it, while being ten meters away from the man, he put his body in a way where throwing this coconut would be at its optimal speed.
Combined with his strength and where the coconut was headed this man would die on impact of the coconut hitting. Considering that the tall man had his back facing the clone would make this rather easy for it to hit. The coconut had no special chakra attached to it, so sensing it with sensory would be impossible. The speed of the coconut was at the max speed that Spooks clone could throw it at, given that his momentum was optimal for the coconut and considering the strength that he put behind it would certainly prove its destructiveness. Even had it not decapitated the man the same instance it hit him – considering it was aimed for his head – it would certainly damage his soft supple brain into making him stupid. The blunt traumatic force of something big hitting you at extreme speed might not pierce the skin, but the force will most certainly knock your brain around so hard that you end up brain dead. Which was the case for Spooks coconut, considering the speed combined with his strength. Spook had knowledge over various medical subjects, these things were logical to him. Blunt traumatic force to the head had most certainly absurd brain injuries as after effect. Knocking a person into vegetable state through this way was oddly more common than most people thought. His coconut was aimed was aimed at the occipital bone of the man, the force behind the coconut was easily high enough to fracture this and cause permanent brain damage, making any person alive a stupid vegetable. Had the coconut hit his face instead, his face would end up getting destroyed by the coconut. It would easily cause the bone of the nose to shoot into the brain and kill him instantaneously. The damage would be comparable to a rough, bootlegged lobotomy. Which also would make the man a stupid vegetable.
Before the coconut was thrown, the other clone holding the fridge was standing at on the walls near the gate. The tall man was about ten meters away from the clone, with height taking into factor. The clone, simultaneously threw the fridge at this man while the other clone threw the coconut. Since this clone was slightly closer due to the mans height and the fact that the clone was angled in a way where he was almost above him, the fridge would land first, with a small frame of under a millisecond. He threw the fridge in such a way that the top part of the fridge, which was the part without the handle would land on his head. The clone used his entire strength to throw the fridge. His fridge, being 200 pounds and moving at a speed of 26 meter per second would hit the man's head at zero point three seconds. Giving him no time to react, his coconut would follow up a millisecond later. The damage his fridge would cause would be detrimental. Considering that it was aimed at his head, the top of his head to be more precise would instantaneously fracture while the fridge would keep its motion in order to make his brain into a goopy mush. His fridge was thrown at a slight angle, which meant that this man would still get hit by the fridge had he moved. It would incapacitate him, had he done so. His extremely heavy fridge being thrown with such high strength and speed behind it would incapacitate anyone alive. After the coconut had been thrown the Clone which threw it moved back, with high speeds had the man found some way to remain alive. He also began on focusing on other targets around him, preparing for anything that could be sent his way. The clone on the wall would do something similar, he moved further towards the wall away from the gate after having thrown the fridge while being also prepared for anything that could be shot his way, he was ready to do hand seals in order to protect himself.
Last edited by Spook. on Sat Jan 16, 2016 12:50 am; edited 8 times in total